2022 Key West Bight Marina Holiday Happenings
'Twas the Bight before Christmas and all through the Key West Historic Seaport…well, you know the rest. This holiday season is sure to be another unforgettable one filled with the Bight Before Christmas Harbor Walk of Lights lighting up every evening starting in late November and lasting all the way through New Year's Eve at the Key West Historic Seaport and Key West Bight Marina. On that note, check out the following list of events and promotions that will be continually updated throughout this most wonderful time of year!
Key West Express 2022 Holiday Sale! – November 1 – December 20, 2022 SAVE $66 on Key West Express Travel Vouchers that are on Sale NOW (November 1, 2022 – December 20, 2022) Escape…Enjoy…Explore Key West with a gift that keeps on giving for two whole years! KW Express Travel vouchers are the perfect gift for any occasion, and they're valid for travel ANYTIME from January 1, 2023 through December 31, 2024. DON'T MISS OUT ON THIS LIMITED TIME SALE – No blackout dates!
The Lighting of the 2022 "Harbor Walk of Lights" – Wed, November 23 – Lights come on at 6:00pm, holiday music starts at 5:00pm!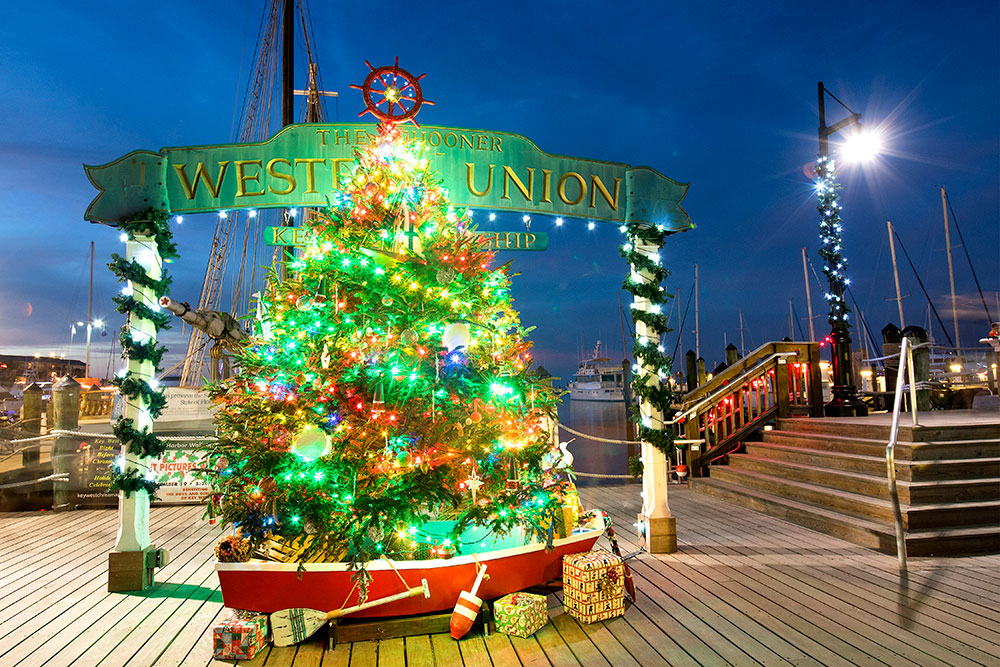 LOCATION: The Harbor Walk plaza at Greene and Elizabeth St. for the best view. Enjoy creative holiday displays and thousands of lights honoring the "Maritime History of Key West".
The Key West "Harbor Walk of Lights" traditional main features will light up that night, including the 20' Fishing Buoy Tree, a 16' Nautical Christmas Tree and the original Key West Lobster Trap Tree.
Walk along the water's edge for a merry infusion of colorful lights and nautical holiday displays. See light sculptures of ship's anchors, tropical birds, tropical fish, a flock of pink flamingos, jolly pelicans, merry manatees, animated sea turtles and dancing dolphins, and even a festive moray eel, all under brightly lit holiday palm trees! And with thousands of ADDITIONAL lights this year around the Historic Seaport, the 2022 Key West "Harbor Walk of Lights" is promised to be a real holiday treat!
Private Holiday Champagne Party on Catamaran Echo – December 1 – January 15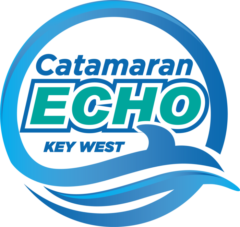 Take an incredible private 2 hour sail in the morning, afternoon, or during sunset for a holiday cruise!
All ages are welcome, and the private charter holiday party can accomodate up to 14 guests!
Premium drinks, mimosas, awesome Christmas cookies and choice of holiday food is ALL INCLUDED! Purchase your tickets today.
Schooner Wharf Bar Tree Trimming Party – Sunday, December 4, 2022 – 6:00 P.M.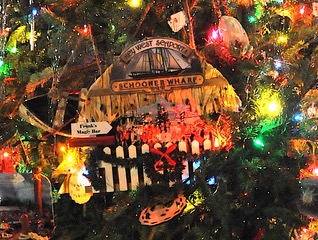 Christmas comes early at Schooner Wharf Bar for locals and visitors alike…The Tree Trimming Party brings everyone together to celebrate the Season, and help out some local children, at Schooner Wharf Bar on Sunday, Dec. 5 starting at 6 p.m. Make their tree yours, and bring a handmade ornament for the 8-foot live Christmas tree. Ornaments will be entered in a contest and prizes will be awarded for the Most Original, Most Nautical and Most Popular with the holiday crowd. All tree trimmers will be treated to a free holiday cocktail!
Schooner Appledore Lighted Boat Parade Party – Sat, December 10 – 7:30 PM-9:30 PM
Be a participant in the 2022 The Lighted Parade aboard the Schooner Appledore II Parade Boat! Trip Includes: Premium beer, boutique wines, wines and soft drinks.
2022 Conch Republic Seafood "Holiday Classic Car Show"
FREE • 11:00am – 3:00pm | LOCATION: Conch Republic Seafood Company – on the Harbor Walk of Lights at Greene St.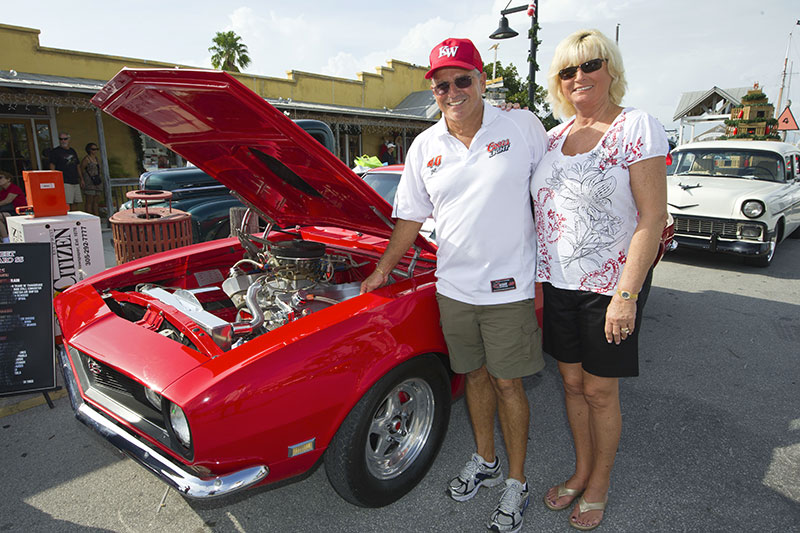 TOY DRIVE: Please bring an unwrapped toy for Monroe County Domestic Abuse Shelter. VOTE for the "Peoples Choice" award for: BEST sports car, pick up, engine, interior, original & custom, pre & post 1950, Best in Show. See classic cars from every era decked out for the holidays! Run by the Florida Keys Southernmost Car Club. Non-member cars may enter same day FREE with an unwrapped toy!
Lowering of the Pirate Wench at Midnight! – December 31, 2022 – January 1, 2023
LOCATION: Schooner Wharf Bar and Galley On the Harbor Walk of Lights at William St.
Great Food, Holiday Drinks and LIVE Music! The party starts early in the day with 3 Local and National Acts. Party Favors – Champagne & Fun with the Unique Schooner Wharf Bar's Seaport Tradition!
Finally, for more information on the fantastic shops, dining, watersports, and other activities taking place all holiday season, visit www.keywesthistoricseaport.com or www.keywestbightmarina.com!
We look forward to seeing you soon for the most wonderful time of the year!
P.S. Don't forget to follow the Key West Historic Seaport on social media!
Key West Bight Marina at the Historic Seaport:
Your Gateway to Everything Key West!